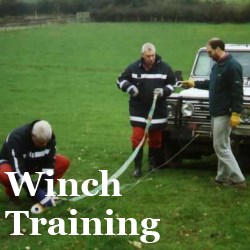 The winch training course is structured to train users of 4x4s, trucks or tractors equipped with vehicle mounted winches, Tirfor type hand winches, or trailer winches, to be able to utilise the equipment to its full potential, safely but effectively. This course can include vehicle recovery, self-recovery or moving objects on land or in water.
We can provide winch training in the workplace, or at one of our dedicated off-road training sites.
Winching Course Objectives
After completion of the course operators will:
appreciate mechanical principles
understand the capacity of their winch
appreciate potential risks and dangers
understand the importance of the familiarisation with controls
understand the capacity of their winch
be aware of basic maintenance procedures
be able to demonstrate an understanding of assessing typical winching situations
Winching Course Content
Classroom session:
During the course the following subjects are discussed and demonstrated in an informal but professional manner. At all stages interaction between the instructors and course members is encouraged to ensure full understanding of the subject under discussion.
winch features and limitations
the suitability or otherwise of various types of winches
the importance of good communication between the winch operator and rigger
assessing and contriving suitable anchor points
wire rope assessment and care
safety related issues involved when winching in areas with public access
use of associated equipment such as pulley blocks and shackles etc
Consideration of minimising wear on consumable items such as wire ropes
Practical winching session:
Out on the course pupils are given practical demonstrations of typical winching situations for both self-recovery and using the winch as a stationary retrieval method. Pupils are then able to practice a variety of winching situations along with the selection of correct winch accessories for the task in hand, all under the close guidance of the instructor.
Subjects covered during the practical element of the course include:-
assessment of the task, including identifying potential dangers
selection of correct winch accessories for the task in hand
good communication between winch operator and rigger including attention to clear signalling
appraising task progress and possible re-assessment
correct and safe winch rigging on completion of task
Each candidate is presented with a winch operators handbook for later reference purposes.
For more information about our winch training and the Lantra-Awards Health and Safety in Winching Operations course, please contact us: