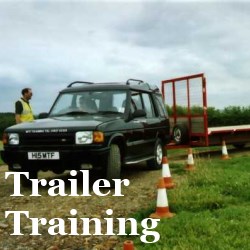 The demand for trailer handling courses has increased significantly over the last few years. Increasing complexity of larger and more specialised trailers along with wide ranging changes to trailer regulations governing individuals and what they can tow, has led to a recognition by many industries to include these skills in their employees training portfolio.
Objectives for Trailer Training
After completion of the course operators will –
understand the capacity the trailers they tow
be able to demonstrate safe hitching and unhitching procedures
understand the principles of safe loading
appreciate trailer laws concerning regulations when towing on the road
be able to carry out routine maintenance safety checks
be aware of basic maintenance procedures
appreciate the need for good observation
understand the changed handling characteristics of a towing vehicle
instill and increase confidence in individuals trailer handling abilities
Trailer Course Content
Classroom session:
During the course the following subjects are discussed in an informal but professional manner.
At all stages interaction between the instructors and course members is encouraged to ensure full understanding of the subject under discussion.
the laws governing trailers, towing vehicles and drivers.
the significance of the need to modify driving techniques when towing
the importance of attention to trailer maintenance before setting off
assessing safe loading and load securing methods
safety related issues involved when using trailers in areas of public access
Practical trailer handling session.
Initially the pupils are given the opportunity to familiarise themselves with the various controls on the trailer and discuss any specific questions. A practical session then follows. Hitching and unhitching operations are explained and then demonstrated.
The instructor explains the principles of trailer handling and each pupil is given sufficient time to develop their trailer manoeuvring skills under direct guidance. Useful hints and tips to help pupils are utilised to aid understanding of the differing handling characteristics of a variety of trailer types.
A range of common manoeuvring situations are practised, and individuals are encouraged to concentrate on any areas which require further practice until both we and they are happy that they can carry out all aspects with confidence.
For B+E licence courses, contact our colleagues who run trailer training in Exeter.
For more information on our trailer handling training courses, please contact us: